Llandudno Hostel
At the heart of a Victorian seaside town, the 4 star Llandudno Hostel is near to blue flag beaches, a traditional pier & lovely coastal walks.
Llandudno Hostel, 14 Charlton Street, Llandudno, LL30 2AA
Call James or Melissa on 01492 877430
Seaside hostel in Llandudno welcomes everyone
James and Melissa would like to invite you to their award winning Victorian, boutique 4* hostel. A wonderfully friendly hostel where individuals, families and groups (including schools) are welcome all year. Some of the guests' comments include: Friendliest hostel we've ever stayed in. Wow isn't it clean. These bathrooms are fabulous, as good as any hotel. Set in the heart of the Victorian seaside resort town of Llandudno, an ideal place to shop or explore the many and varied local attractions. Excellent blue flag beaches, dry slope skiing, toboggan run, Zip Safari, Surf Snowdonia, Zip World, bronze age copper mine, traditional pier, many museums, fishing trips, sailing etc. Llandudno is within easy travelling distance of Snowdon, Bodnant Gardens and local castles. The hostel can book local attractions for groups and secure some discounts. A fabulous welcome awaits you.

This accommodation is featured on our map of Snowdonia and North Wales and here is its own website.
Details
Beds & Rooms:

46: 2x8,2x6,4x2,1x4,1xfamily(6)

Open:

All year (telephone in winter prior to arrival). All day.

Price per night:

From £20 per person, £55 per private twin room, £60 per private twin en suite. Group and family rates on request. Special offers autumn/winter.

Booking:

Essential April to July.

Directions:

From the A55 take A470 and follow signs to Llandudno town centre, straight through all roundabouts, after Asda turn 3rd left into Vaughan Street (signed train station), then 1st right into Charlton Street. Hostel is No 14 on the left hand side.

Public Transport :

Trains at Llandudno town station. Turn right as you exit station, cross road, turn left down Vaughan Street (towards the beach), left into Charlton Street, you will find Llandudno Hostel on your left.
This accommodation is featured on the following pages
By the Sea Close to a Pub Individuals welcome School Groups En suite rooms Accommodation for Cyclists Near a Castle Evening Meals IHUK Signage

This accommodation is available at the following peak times

Available for Christmas 2023 Available New Year 2023 / 2024 Available February Half Term 2024 Available Easter 2024 Available May Day Bank Holiday 2024 Available Spring Bank Holiday or Half Term 2024 Available August Bank Holiday 2023 Available October Half Term 2024
News & Offers from Llandudno Hostel
Close To The Mountains
May 26th 2023
Llandudno Hostel, situated near the beach, but has the benefit of also being close to many mountains in the picturesque North Wales. Very close proximity to Snowdonia national park. Mountains listed in order of closest proximity Carnedd Llywelyn, Glyder Fawr, Tryfan, Snowdon are all within 35 minute- 45 minute driving time from Llandudno Hostel. The hills a short walk -15 minute drive closest to Llandudno Hostel for are The Great Orme, Little Orme, Nant y Gamer and Conwy Mountain.
We love to host hikers, ramblers, mountain bikers and cyclists at our property. With secure bike store we are a great venue for the outdoor enthusiast. There are bus routes to Snowdon, if required, we gladly help visitors plan their routes for public transport to Pen y Pass and which trail to choose for hiking up Snowdon. There is nothing more magical, in my opinion, than climbing or drawing a mountain. The fresh air, stunning scenery below, heat of the sun beating on your cheeks and good company, all make for memorable days out. I personally love any time of year in the mountains. Whether that is from down low or up high. Summer time there are less risks with climbing mountains and the adventure is so much fun. We do recommend you carefully plan your day out to avoid such trouble as some of my friends have had.
Mountains must be treated with respect. Always wear sensible footwear, look at weather forecast and bring a jacket as weather can be changeable and windy at the top. If you have someone with severe disabilities in your hiking party it is advisable to check in with the mountain rescue ranger service, as some mountains have no phone signal; if you say you will ring at a certain time and you don't they can then send help.
Some of my friends enjoy the hike up Snowdon in the early hours to watch the sunrise. I'm too lazy to do that….more one for my husband I think!
The Glyders covered in snow is so beautiful in the winter but make for more treacherous hiking conditions. We have had to rescue hikers before in the winter, who went up one side of the mountain and took a wrong compass bearing and ended up early evening in the freezing winter dark on the wrong side of the mountain surrounded by fog. We care about our guests and hope you hike in safe conditions. We would recommend families with very young children (2-5 year olds) avoid Tryfan as our 3 year old didn't cope well with that hike over massive boulders to the top. It was a lot of pushing, pulling and carrying our toddler and was a bad choice for her age; yet her older siblings absolutely loved the challenge it brought them and felt a wonderful sense of achievement.
Whatever way you choose to enjoy the mountains, they deserve respect, awe and to be climbed! For me personally it is a passion to draw them, for my husband it is a passion to reach the summit. We hope to welcome you for your own adventures to stay at Llandudno Hostel, a beautiful gateway to Snowdonia.
Enjoy The Sun this Spring Bank Holiday or Half Term
May 20th 2023
Families wishing to enjoy the beach this half term will love Llandudno Hostel. We provide Family friendly accommodation, with lovely modern en-suite shower and WC room. The Family en-suite bedroom has a double bed and 2 sets of bunk beds (sleeping 4 children and 2 adults) and an extra cot or fold up bed if required. Llandudno Hostel is a short walk to the beach which is only 2 streets away and Llandudno has a wealth of attractions to amuse little ones.
Bodafon Farm Park offers free entry and is a great place to relax and eat, whilst soaking in the stunning view of Llandudno at sunset. Llandudno Ski and Toboggan centre above Happy Valley are great fun, along with the snow tubes and pitch & putt! If climbings your thing, the indoor climbing at Llandudno Boathouse climbing or outdoors with Go Vertical are amazing experiences. There are also Jet Ride speed boat trips available just to the right of the pier. If soft play entertains your little tots try going Bonkerz play centre. A short drive to Conwy Castle, Bodnant Gardens, Zip Safari, Llyn Crafnant or Aber Falls. As described this is just a fraction of what Llandudno has to offer, there is something for everyone. Book now to avoid disappointment.
Latest Blog about Llandudno Hostel
August 30th 2021
Where better to reunite the family this Christmas than a spacious boutique hostel? Llandudno is famed for its Victorian looks and homely feel, which is exactly what you can expect from this fabulous hostel. Spread over 9 rooms there's space for all the extended family.
Read More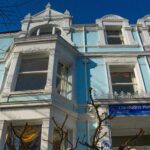 Contact Llandudno Hostel