This year we are all turning 40 and by way of celebration one of our group's birthday choice was a family weekend in Shining Cliff Woods near Ambergate, Derbyshire.  So 6 families arranged to stay at SHINING CLIFF HOSTEL whist others spent the day enjoying the woods.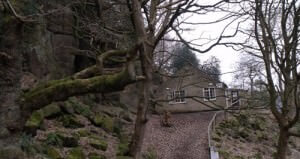 Shining Cliff woods felt like another world
Rather unseasonable for this year the first Saturday in March was a glorious warm cloud free day.  The ancient woodlands gloried in the signs of spring already showing a hint of the Bluebells that will cover the understory in six weeks or so. Although just 20 minutes' drive from home Shining Cliff woods feel like another world.  Differing from the open sometimes bleak landscape of the nearby White Peak because of it's gritstone rock faces and areas of ancient woodland.  The 800m walk from car park to hostel immediately introducing us to the woodland through the sounds of woodpeckers and small birds beginning their nest building and mating rituals.
For the pack of children who came with us Shining cliff is a natural adventure playground with trees to climb and caves to explore within site of the hostel whilst a short (treasure hunt) walk away the old reservoir pond enticed the meekest to strip off and have a swim.  With no traffic to hamper them children can run wild whilst parents relax in the sun drinking tea and chatting in the hostel's outside picnic area.
Our evening meal produced by two of our party in the well provided kitchen at the hostel was eaten around a campfire –available for hostel users just a short  walk away.  The children delighted in their role in collecting firewood and building the fire.
With two rooms of 6, one of 4 and two of 2, Shining Cliff Hostel is a great place for families to share a holiday, we fitted perfectly and the bunks were comfortable for adults and children.  Once the children were asleep there was plenty of space for adults to lounge about- possibly partaking in a small amount of alcoholic beverage to toast the birthday girl as well as a little bit of African dancing into the small(ish) hours.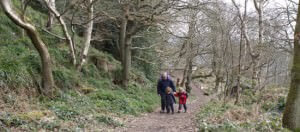 Although Sunday dawned a little less sunny the children still enjoyed playing around the hostel whilst we cleared up and packed,  The walk back to the car  enhanced the sense that we had been on an adventure to somewhere really wild and yet we were still able to be home for lunch and an afternoon in the garden.