Alnwick Hostel
Our long drive home from Scotland was broken by a stay in an ensuite room in the ALNWICK YOUTH HOSTEL. This hostel is in a quiet location but near to the shops, cafes and tourist attractions. Particularly attractive was the light dining room, with its lime green tables and a view out onto the old lockup with the remains of a gas powered police lamp.  The hostel had once been the town's Courthouse and the hostel manger showed us the chair when the Queen had sat when she came to open the hostel following its conversion.

Alnwick has myriads of stone paved roads, independent shops, cafes and pubs. Set amidst the streets, almost built into them is  Alnwick Castle.  This is where the courtyard scenes in the early Harry Potter films were shot.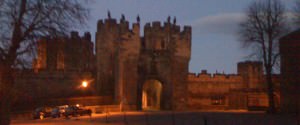 Alnwick Castle
Well worth a visit is Barter Books a huge second hand book shop in a lovely old railway building, set on the outer perimeter of the town walls close to the Alnwick Gardens.  The gardens are definitely on my list for a return visit with their famous water sculptures, fascinating for old and young.
Alnmouth
Next we headed for Alnmouth, only 15 mins' drive, for a look at the sea.   A pretty little seaside village with access to a beach of soft sand, tricking stream and sand dunes all grassy with wild flowers.  Well worth a day's visit with the kids.
Recommended for a visit but slightly further afield is the cottage where George Stephenson was born, in fact the number of National Trust symbols alone on the map of this area made this a must for a return visit!
Visit Alnwick Hostel or one of the other hostels and bunkhouses in Northumberland.