Pentre Bach Bunkhouse
Pentre Bach Bunkhouse,Snowdonia has views of Moel Eilio & Mynydd Mawr near to Snowdon as well as great walks & outdoor activities.
Pentre Bach Bunkhouse, Pentre Bach, Waunfawr, Caernarfon, Gwynedd, LL54 7AJ
Call Karen Neil on 07798 733939 (9am-9pm)
Self catering bunkhouse in Snowdonia
Pentre Bach Bunkhouse provides dog friendly, alpine style accommodation and a camp-site. The Bunkhouse is heated with electric radiators and has two floors. The ground floor has tables with benches and a cooking area with gas burners, microwaves, fridge and freezer. Upstairs are alpine sleeping platforms with mattresses for 16. Drying room and toilets with washing facilities and showers, shared with the camp-site, are just across the yard. Based between Waunfawr and Betws Garmon, Pentre Bach is surrounded by the superb scenery of Moel Eilio and Mynydd Mawr and has views towards Mount Snowdon. There are great walks from the bunkhouse or take a short car journey to the Nantlle ridge and the main footpaths up Snowdon. Large or small groups and individuals all welcome. Local pub is CAMRA Pub of the year in the area. Great beer and good food.

This accommodation is featured on our map of Snowdonia and North Wales and here is its own website.
News & Offers from Pentre Bach Bunkhouse
Spend New Year in the mountains
December 3rd 2023
Pentre Bach Bunkhouse is still free over the New Year. Why not gather a group of friends together and see the New Year in surrounded by the mountains of Snowdonia? The bunkhouse sleeps 16 in alpine-style accommodation with sleeping platforms and (thick) mattresses. Just bring your own sleeping bags & pillows. You'll be hard-pressed to find cheaper accommodation around over the New Year.
It's heated, has a basic kitchen, table and bench-seating for 16 and hot showers. Dogs are welcome too (with prior arrangement). There's a real ale micro brewery  just a 10-minute walk away where good food and pints are to be had.  The beach is just 20 mins drive away and it's only a 5 min drive to the popular Snowdon Ranger and Rhyd Ddu paths.  What more could you ask for???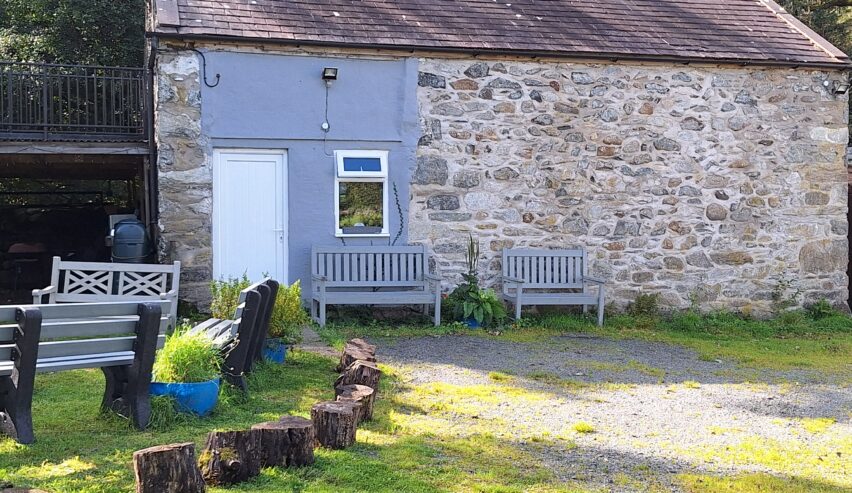 New Year in Snowdonia
October 12th 2023
New Year break near Snowdon and other mountains at Pentre Bach Bunkhouse
We have availability at New Year for sole use only for minimum of 2nights. Price according to group size. We have a garden area with a firepit for you to chill and stargaze. Dogs are welcome . Our local pub is only a 10 minute walk away and always offers a warm welcome and are also dog friendly.
Latest Blog about Pentre Bach Bunkhouse
July 2nd 2021
"Soon we were balancing along Crib Goch Ridge, with drops on each side like nothing you could imagine. No ropes and no hand holes – just fresh air and amazing views…"
Read More
Contact Pentre Bach Bunkhouse