Whilst people typically link Bala with the lake and watersports, I recently took a trip over for a different reason. I was on a research trip for the UK CACHE MAG. A magazine dedicated to geocaching here in the UK.   Geocaching is a gps based treasure hunt, to find hidden containers in interesting locations.  Bala is an area that has some geocaches that I have been keen to visit and I was totally blown away by the views and the quality of what I found when geocaching Bala.
 I had a look at the map of hostels and bunkhouses around Bala and set up my base for the weekend at BALA BACKPACKERS, which was about a minute walk away from the main road through the town. This meant lots of pubs and places to eat right on the doorstep. There were also a number of shops where I was able to stock up over the weekend, including the purchase of a torch.
I started from the car park near the back of the Co-op, walked round some of the streets and headed up the hills to do a circular walk that brought me back around the lake.  As I rounded the edge of a hill I was astounded by the views, it was a clear day and I could see for miles.
 
At one point I came across an old cave or quarry, a long and thin place that opened up like a whale's mouth, with a number of stone columns left, this is where I went back to get the torch.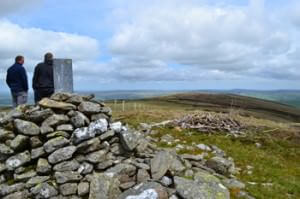 After collapsing in a heap and relaxing with a coffee at the hostel I treated myself to a Chinese takeaway and headed back out to catch up with some friends in a local pub where we enjoyed one of the local beers from the "Purple Moose" brewery and talked about geocaching Bala.

Up nice and early the next morning I headed over to the reservoir at the other end of town and parked in the free spots just past the white water rafting centre.  Here I met up with friends and we began the assent of Carnedd Y Filiast.  This has an elevation of 2194 ft, a bit less than its big brother Mt Snowdon at 3560ft. The walk was nice and steady, and there were lots of stunning views and interesting features along the way, such as old shelters and strange markings on the fields in distance.  At the top was a geocaching event,  part of a series called "Brew with a view",  where people gather for a chat and a cuppa after a challenging summit walk.
For more information about geocaching why not have a look at www.geocaching.com  or Hobbyhelp.  Many thanks to Stella at Bala backpackers for hosting me.