New Ing Lodge's locally sourced food
NEW ING LODGE on the high fells of Shap make an extra effort to source local food.  The meals they serve are simple British recipes at their best and because the food is bought from locally high class producers it is fresh and high quality.   This all shows in the fulfilling taste, which is just what you need after a day out in the wilds of Cumbria.  I have never known simple food taste so good.
Breakfast at New Ing Lodge
Take breakfast for example.  The sausage is reared in Hesket Newmarket by Fell Top Meats, 10 miles from door to door.  Now that's what I call local food!  The Bacon comes from Bella's Butchers and guests walking the coast to coast route to Kirkby Stephen will walk past the butchers shop.  Mushrooms from Ireland and tomatos from Blackpool sourced by the local fruit and veg shop Vista Veg.  Milk from  Whitestone Farm just down the road .  Eggs from New Ing's own chickens and Jam made on the premises, it just couldn't be more local food.
New Ing has its own bar with Pennine Pilsner and often featuring ales from local brewers, Eden Brewery and Tirril Brewery (just 8 miles away).
Order a packed lunch and the butter and cheese used will be local food from Winter Tarn Cheese just 3 miles away. When it comes to dinner, there are some great menus available costing an unbelievable £7 to £9.  The night we stayed there was Special Lamb hot pot, New Ing Vegi Chilli  and Chicken and Bacon Pie with smoked bacon loin.  All  made from local food ingredients from Fell Top Meats, Vista Veg and Bellas Butchers,  within 10 ten miles of the Lodge and the pies made on site by New Ings own Pie-maker, Craig Hennessey, the 2011 British Pub Pie Champion.  Pudding was local ice cream from Taste of Eden and sticky toffee pudding home made at New Ing by Leigh-Ann.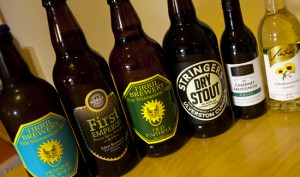 There's no need to take my word for it, Nature Lakeland have awarded New Ing Lodge  their Above and Beyond award for outstanding commitment to responsible tourism,  Green Tourism have graded them Gold.  They are a gold member of the Cumbria Business Environment Network and a member of Nurture Eden inspiring people to care for Cumbria's natural environment through responsible tourism.    But then there is no need to take their word for it either, why not book at stay and enjoy local  food at its best.