Gauber Bunk Barn, Ribblehead, Ingleton, Carnforth, LA6 3JF
In the heart of Yorkshire's Three Peaks country right on the route down from Pen Y Ghent and in close proximity to the Dales Way and Dales Highway routes. This warm comfortable bunkbarn sleeps up to 13 in three rooms (one en suite).Sofa bed and z bed available at reduced rate to accommodate groups up to 16. Downstairs is the main bathroom with shower over bath. The large self-catering kitchen/diner has a farmhouse table whilst the spacious living room has a wood burner for those chilly nights. (Starter log packs are provided, extra logs can be purchased). The secluded garden to rear has stunning views as do the front bedrooms. Perfect base for walkers, cavers and cyclists or for families to enjoy a fantastic break in the Yorkshire Dales. Close to Ribblehead Viaduct, White Scar Caves, Ingleton Waterfalls, Wensleydale Creamery, the open air pool at Ingleton and the Settle to Carlisle railway. The Lake District is just a 40 min drive and the coast is just over an hour. Dogs welcome for sole use only.
This accommodation is featured on our
map of Yorkshire and Lancashire
and here is its own
website
.
or call Jon Radda & Katie Hawkins on
01524 241150
Visit this accommodation's Website
Rooms & Beds:
13: 2×4, 1×5 (dbl + 3) ensuite.
Price per night:
£18 inc fitted sheet & pillow. Duvet & towel hire one off charge of £5, Simple breakfast by arrangement.
Booking:
Via telephone. Group bookings only at weekends.However where possible we will take bookings for individual guests and smaller groups up to 2 weeks before a chosen weekend. Minimum stay may apply at peak times.
Submaps:
Directions:
From A65 at Ingleton take B6255 (Hawes). Pass Ribblehead station and take next right (Horton in Ribblesdale). Gauber Bunkbarn is on the left after 1/2 mile.
Public Transport:
15 min walk from Ribblehead train station
This accommodation is available to individuals and is on the Dales Way and the Pennine Way.
News & Offers
At Gauber Bunk Barn we are dreaming of a White Christmas!
Gauber Bunk Barn ticks all the boxes for enjoying a traditional,cosy get together this Christmas.
The barn sleeps 12/13 people in 3 comfortable bunk rooms. In the living room there are plenty of comfy sofas to gather round and relax in front of the cosy wood burner. The kitchen is well equipped and has benefit of a double oven for preparing and  cooking that special meal. 
Enjoy beautiful walks straight from the front door. The iconic Ribblehead Viaduct is just a 15 min walk from Gauber,the perfect location for a stroll after Christmas lunch. You never know ,we might be lucky enough to see a sprinkling of the white stuff!
For further  details please contact us through the Independent Hostels website or our own website www.gauberbunkbarn.co.uk. 
Please note- We only have availability over the Christmas period, the barn is fully booked over the New Year break. Thank you.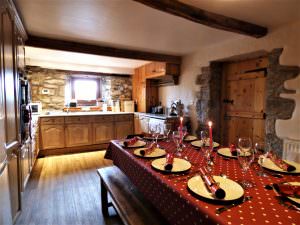 … a great location…
Gauber bunk barn at Ribblehead is in a great location. You'll know from the name that its close (a 15 minute walk) from the iconic Ribblehead Viaduct on the beautiful Settle-Carlisle line. I recall travelling in my youth in an atmospheric corridor-train on this line and the owners of the hostel similarly celebrate the railway by posting smashing shots of steam trains chugging along it on their socials whenever they can. If you've seen the 2016 drama Jericho, you'll know a bit about the history of the viaduct. Local historian provide guided walks with further information. 
If scenic railways aren't your cup of tea, and I'll grant that its a bit of a niche thing, then how about the wealth of amazing landscape. With the Yorkshire Dales just over there and White Scar Caves, Ingleton Waterfalls, The Three Peaks and Malham Cove and environs. Their website has a lovely gallery of photographs which will only serve to entice you more.
This attractive, comfortable bunkbarn has 3 rooms and sleeps 12. Downstairs is a large convivial dining kitchen with wood burning stove and a cavernous wooden table perfect for evening gatherings.
Due to a cancellation, the weekend of the 15th-17th Sept 2017 is now available.
Gauber Bunk Barn is situated in heart of Yorkshire's stunning Three Peaks. It is the perfect base for individuals or groups completing the Three Peaks walk. It is also a superb location for exploring the beautiful Yorkshire Dales, or as a stop off on the Dales Way.  The barn sleeps up to 12 people in 3 comfortable bunk rooms. Once you return from your Three Peaks adventure, or day taking in the wonderful Dales landscape, you can relax in front of our cosy wood burner, or on warmer nights enjoy an evening in the garden overlooking the stunning Ribblesdale landscape.  The barn is available on a sole occupancy or single room hire basis. Please contact us on 01524 241150 for more details.