Cleikum Mill Lodge
This renovated character building is set in the Tweed Valley on the Scottish Borders. Located in Innerleithen close to shops, pubs & cafés.
Cleikum Mill Lodge, 7 Cleikum Mill, High St, Innerleithen, Scottish Borders EH44 6QT
Call Graham on 07790 592747
Glentress and Innerleithen Mountain Bike trails
Cleikum Mill Lodge is a modernised character building in the heart of the Tweed Valley at Innerleithen. The mill sleeps 10 in two separate apartments (12 until Jan 2024). The ground floor Lower Mill sleeps 6 in 3 en suite bedrooms (sleeps 8 until Jan 2024) whilst the first floor Upper Mill sleeps 4 in 2 rooms. Book the Lower Mill, the Upper Mill or the whole building. The Scottish Borders location is perfect for walking, cycling and mountain biking with off-road trails suitable for all, novice to experts. Innerleithen is a 7Stanes mountain bike trail centre location making this the perfect place to stay for those wanting the thrill of off-road riding. There is also great road cycling with NCN route 1 passing through the town. The borders walking festival promotes walking in the area each year and Cleikum Mill is 1 mile off the Southern Upland Way, an ideal stopping point. The mill has very secure bike storage, bike wash facilities as well as a drying room and washer for your wet clothes. Free hot drinks on arrival. Innerleithen is well supplied with a supermarket, pubs and cafés. Ideally located for day trips to Edinburgh approx. 60 mins by car or bus. Sister website Bike Valley Trails has a choice of the best gravel, mtb and road ride routes in the area. There is local bike hire including E bike mountain bikes (hardtail and full suspension).

This accommodation is featured on our map of the Scottish Borders, Glasgow, Edinburgh and South Scotland and here is its own website.
Details
Beds & Rooms:

10: Lower: 6: 3x2. Upper 4: 2x2 (Sleeping 12: 8 and 4, until Jan 2024)

Open:

All year. All day. Check in after 4pm, check out before 10am.

Price per night:

Guide prices £60 private single ensuite, £80 twin ensuite. Apartment for 4 £160. Apartment for 6 £296. Discounts from 12%-35% for 3+ nights, (the longer you stay the greater the discount.)

Booking:

Book online via website. Children welcome, one cot and one high chair are available. Booking at least a day in advance is preferred as no front desk, owner may be out on the hills! Telephone in advance for last minute bookings Guests usually self-check in. Repeat business means we get booked well in advance so please plan ahead. Check our " room" booking calendars as it does get updated/change frequently.

Directions:

Located on the A72 Peebles road in the heart of Innerleithen. Free parking in Hall Street car park 100m away and out front in the High Street, we prefer guests not to park in the side road outside residential houses but use the car park as respect to our neighbours.

Public Transport :

Rail Station at Galashiels (trains from Edinburgh). Regular buses to Innerleithen from Galashiels and from Edinburgh. X62 Bus from Edinburgh via Peebles. Edinburgh Airport (33 miles) linked by tram to the buses and trains above. X62 bus carries 2 bikes (ask us for more details.)
This accommodation is featured on the following pages
Close to a Pub Dog Friendly Mini Breaks with Activities Luxury Bunkhouses Individuals welcome En suite rooms Accommodation for Cyclists Breakfast Walking Festivals Biker Friendly

This accommodation is available at the following peak times

Available February Half Term 2024 Available Easter 2024 Available Spring Bank Holiday or Half Term 2024 Available October Half Term 2024
News & Offers from Cleikum Mill Lodge
Relax in the Tweed Valley at Innerleithen
September 27th 2023
Cleikum Mill is a historic character building with plenty of space to chill & spread out, we have had professional bike teams, product launches, family reunions , walking groups and even a hot air balloon group visit us over the last 6 years we have been open and everything in between.
Cosy and warm all year come and relax in the Tweed Valley Forest Park or break your journey and replenish your supplies in our local shops wash kit or make use of our baggage/ support service (contact us first.)
We have 5 bedrooms
2 lounges
2 kitchens
5 bathrooms
Bike store / workshop internal to building (heated.)
Huge drying room with washing machine+ drier etc.
Dog friendly for excusive use.
Full Scottish Breakfast 1 minute away by prior arrangement.
Cafes/shops/pubs/restaurants/ takeaways in town.
14 days out suggestions with huge information in the building for walks ,rides and site seeing and exploring by car.
Arrive by public transport to our front door. Bus is bike friendly as well!
Bike hire available locally inc Emtb hire ( full suss or hardtail.)
Local guiding/ coaching and family days can be arranged for mtb riders. or just book a guide to suit your own interests to see the history of this area by car.
Heather clad hills and enchanted forests – our guests always return for more
July 14th 2023
There is so much to do in this area most of our groups return again and extend their stays . If you love exploring the outdoors you will love the Tweed Valley , an undiscovered secret 25 mikes south of Edinburgh. you will avoid the crowds and hardly see anyone in the hills.
Did you know Tweeddale Sportif takes place on the Aug BH weekend and a week later is the renowned Tour of the Borders closed road sportif., the cycling here is fantastic whatever bike you ride.
The rainbow jerseys of the World Championships will be won earlier in the month at Glentress mtb trail centre, watch it on tv then come and ride some of the same trails!
August is the peak of the purple clad hills of the heather season a fantastic time to visit and walk , run or just sit back and picnic beside a Loch, we have all the information to make it easy for you and facilities to make life easier too, in a modernized building, even the (now King) Prince Charles has been to visit , see the photos and read about the interesting history of this building , situated in the High St, a stroll to cafes, shops and restaurants . A roomy building with plenty of space to relax , we can help you as much or as little as you want us too to help you make the most of your stay. Follow us on Insta and Facebook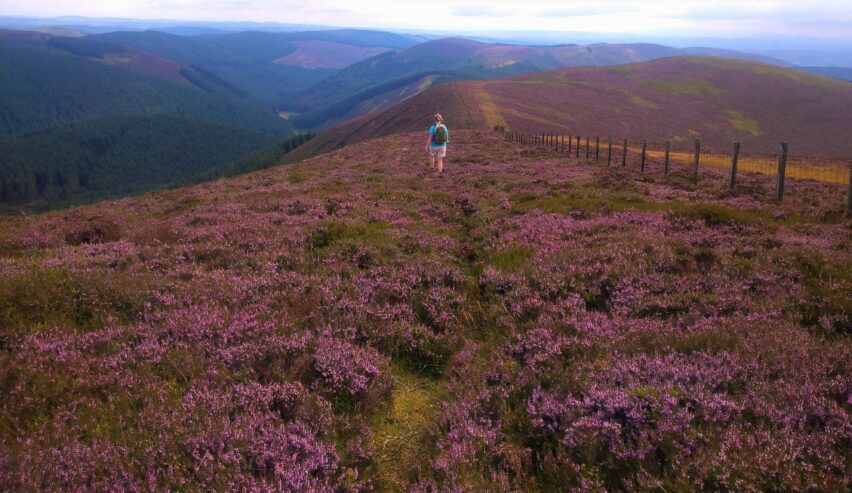 Latest Blog about Cleikum Mill Lodge
February 24th 2021
Awesome starts here just South of Edinburgh in the Tweed Valley …its not as away far as you think and there is loads to do. Cleikum Mill is a perfect destination for a short break or longer adventure holiday.
Read More
Contact Cleikum Mill Lodge