Edinburgh, the capital city of Scotland.
Edinburgh is steeped in a rich history, culture and of course lots and lots of whiskey. Edinburgh is without a doubt one of the most picturesque and interesting cities in United Kingdom, boasting a wide array of attractions and sites for anybody looking to explore this most wonderful of cities. But I'm sure you know all about that, given that it is the capital city of Scotland. Edinburgh is full of little alleyways, quirky corners, and you are never far from some sort of street theatre or performer.
CASTLE ROCK HOSTEL is one of Edinburgh's Hostels.  It is a fantastic base to explore this wonderful city from – it is literally a 30 second walk from the iconic Royal Mile, and is almost within touching distance of the castle. A short walk up the steps across the road from the front door and you are at the castle's entrance. The hostel offers great facilities and has a very relaxed feel – there is even a 'chill' room where technology, bad vibes and even your shoes are literally banned.
The common room offers a great space for socialising, and it's a great place to meet lots of interesting characters – we had numerous games of pool with many different nationalities of people, from Spanish to French to German. A colourful mix of people and their backgrounds in the hostel really makes your stay even more interesting.
At night, the city is alive with excitement and liveliness, and you are never far from a great restaurant or pub. The quirky wynds, such as Advocates Close, offer a relaxing refuge from the bustle of the Royal Mile – sometimes you may even find a musician busking round the corner in one these interesting alleyways that wind throughout the old town of Edinburgh, and it is a joy to soak up the history and oddities of a time gone by.
There are plenty of things to do around the city during the day, such as the famous 'Camera Obscura' and it's 5 floors of illusions, and it is easy to spend more than a few hours marvelling at the 2 century old camera and the frankly quite terrifying and weird illusions found at the exhibition. However if illusions and scaring yourself are not your thing, there is plenty more to do – the new town offers a great selection of shops for those of you who just have that urge to splash your cash whenever you can. The new town, while rather different from the old, still retains a certain charm and certainly fares well against Scotland's 'other' charming capital city; Glasgow.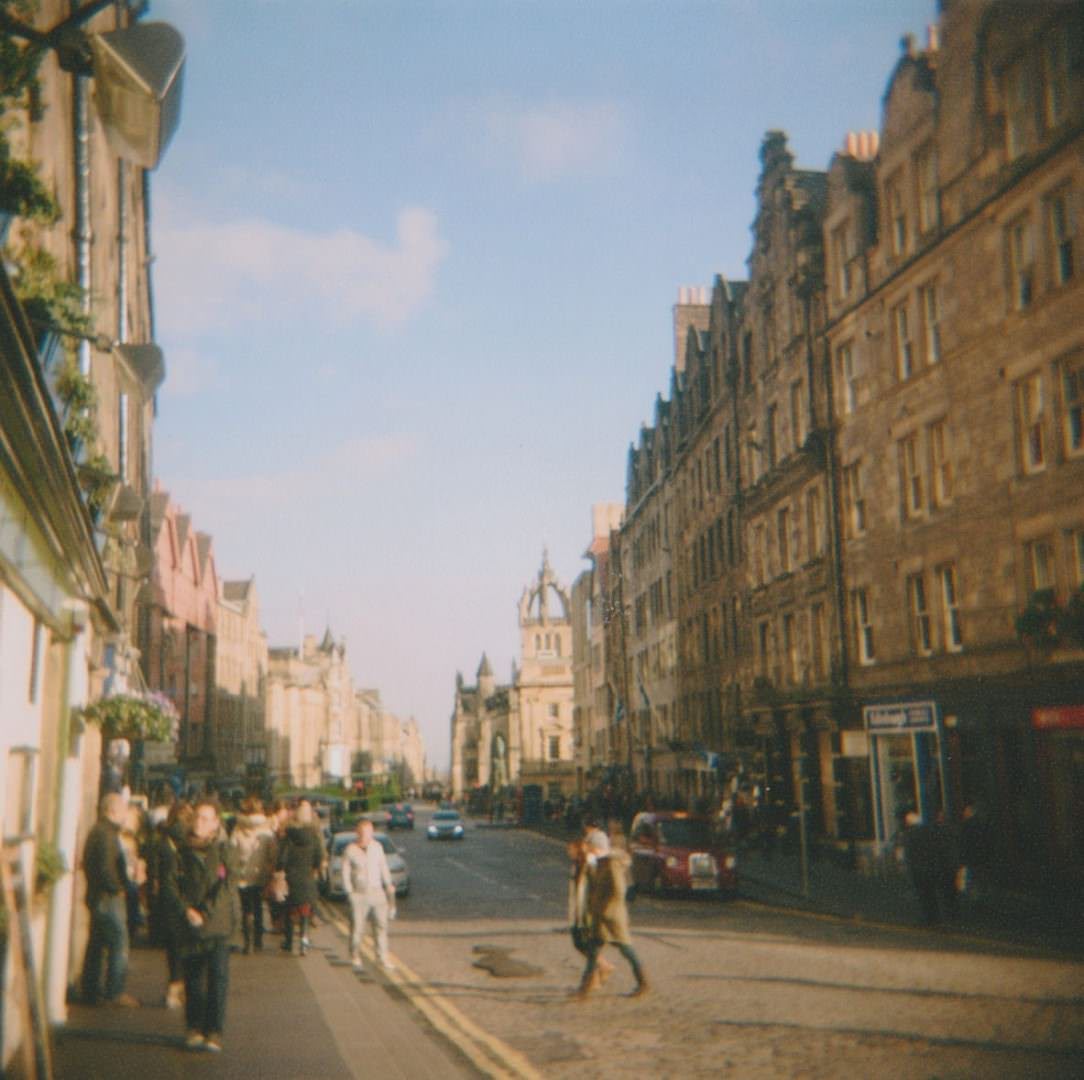 Edinburgh is definitely one of, if not the, most beautiful and interesting cities in the UK and if you haven't made the time to visit then I sincerely suggest you do. You can find this hostel and others in the area on the map of Hostels in Edinbugh, Glasgow and South Scotland.
There are city centre hostels in all major cities of the UK.  For more information look at our map of City, Backpacker and Boutique Hostels
Hadyn's photos were taken on an old  Holga 120N film camera from the 1980s.