Buy the Independent Hostel Guide, direct from the publisher.
Hand book of Independent Hostels UK, the largest network of hostels and bunkhouses in the UK,  the guide is a great introduction to the huge resource of self catering accommodation, provided by bunkhouses and hostels.
At only £7.45 including postage the Independent Hostel Guide is an invaluable resource for flicking through at home or when you are out and about away from the Internet.
Using the button below you can buy the Independent Hostel Guide with a credit or debit card.
Pre-order the 2019 Guide and get the 
2018 edition FREE OF CHARGE.
The 'Buy Now' button takes you to paypal's secure system. You do not have to be registered with paypal. Just click the grey  "pay with debit or credit card" button.  Alternatively if you have a paypal account you can sign in and pay that way.
Your purchase will be a pre-order of the 2019 Independent Hostel Guide which will be dispatched to you at the end of January.   In the meantime a copy of the 2018 Guide  will be dispatched straight away using 2nd class post.  Overseas orders are sent by Airmail.  In early February the 2019 edition of the Guide will be automatically sent to the same recipient at no extra cost.
If you would like to pay by cheque, please make it payable to Independent Hostels UK and post to:
Independent Hostel Guide, Speedwell House, Upperwood, Matlock Bath, Derbyshire, DE4 3PE
The Independent Hostel Guide is an inch think and full colour throughout. There are pages full of photos and all the details you need to plan your visit and book the accommodation.  The latest edition provides the complete reference to 406 Hostels, Bunkhouses, Camping Barns and Group Accommodation Centres in England, Scotland and Wales.   At only £7.45 including postage and packing the Independent Hostel Guide represents great value and is an invaluable resource when out and about.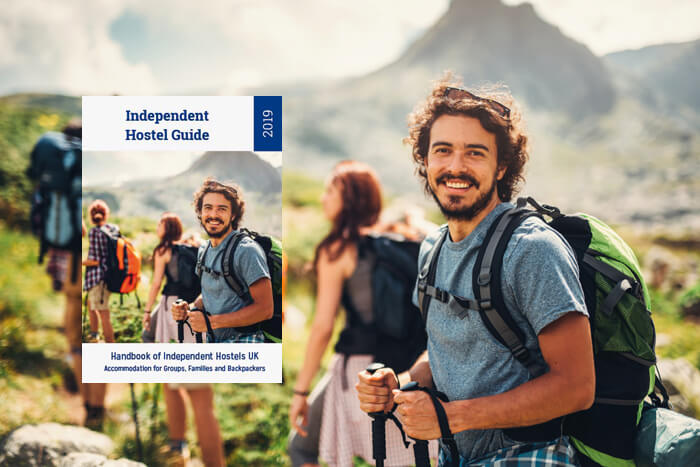 The guidebook has been printed every year since 1990, growing with the hostel network.  In the beginning the guidebook was the only way to find out about the hostels and bunkhouses in the UK , but now you can use this websites to find bunkhouses and hostels.   The regional maps will show all the hostels within a region or along a long distance path.  Use the Find By: filters to create your own  list of accommodation tailored to your stay. Use the Enquiry button to send a message to a group of hostels with the facilities and location you require.
Save
Save
Save
Save
Save